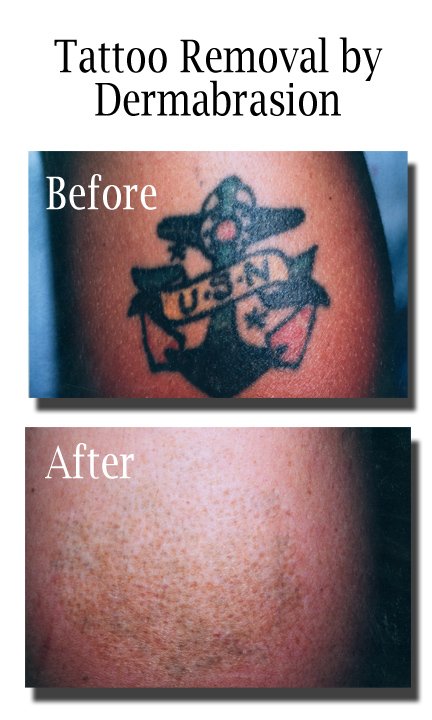 An easy way to describe the dermabrasion tattoo removal method for eliminating your unwanted body art is "sanding."  It's an older method that's less used today, and involves the use of an abrasive rotary device that grinds or "sands" the tattooed skin down below the pigment.
Basically the process involves spraying the tattooed skin with a solution to freeze it, then the area is deeply abraded with the power sanding device, causing the skin to be rubbed away.  The tattoo ink is removed along with the peeled skin.  As you might guess, it can be quite painful in the hands of an unskilled technician.
Salabrasion is a similar tattoo removal method, but slightly simpler.  The tattoo is sprayed with a solution of salt dissolved in water, then the area is strongly abraded with a simple sanding block or rotary device.
If you've ever fallen and badly scraped your knees, you have a general idea of what these abrasive procedures are like.  They can be bloody and painful.  A local anesthetic is usually used on the area prior to treatment, and a dressing is applied afterward to help lessen the risk of infection.
Another method similar to dermabrasion tattoo removal–and uses acid–causes a chemical burn down into the depths of the tattoo.  Another is cryosurgery, where the tattooed area is frozen using a liquid nitrogen solution, then the skin is peeled off after blistering or scabbing.
Depending upon the depth of the tattoo ink, scarring can result from all of these methods, so special care of the wound after any dermabrasion tattoo removal method is extremely important.  Several treatments are usually needed, but they can all be done on an out-patient basis.
Share and Enjoy